Pros
Signing up is free and quick

All essential features are available for free, even messaging. It's limited but free

There is a live chat and instant messenger

Mobile app

Quite detailed profiles

There are badges for verified users

Over 1 million members from all over the world
Cons
Communication options are very limited for standard users

The app isn't available for iOS and Windows phones
Verdict
Indonesian Cupid is one of the niche dating sites under Cupid media. While the site is intended to help Indonesians find the love of their life, that does not mean that it is for Indonesians exclusively. It welcomes everyone from all over the world.
---
Indonesian Cupid: The Go-To Indonesian Dating Site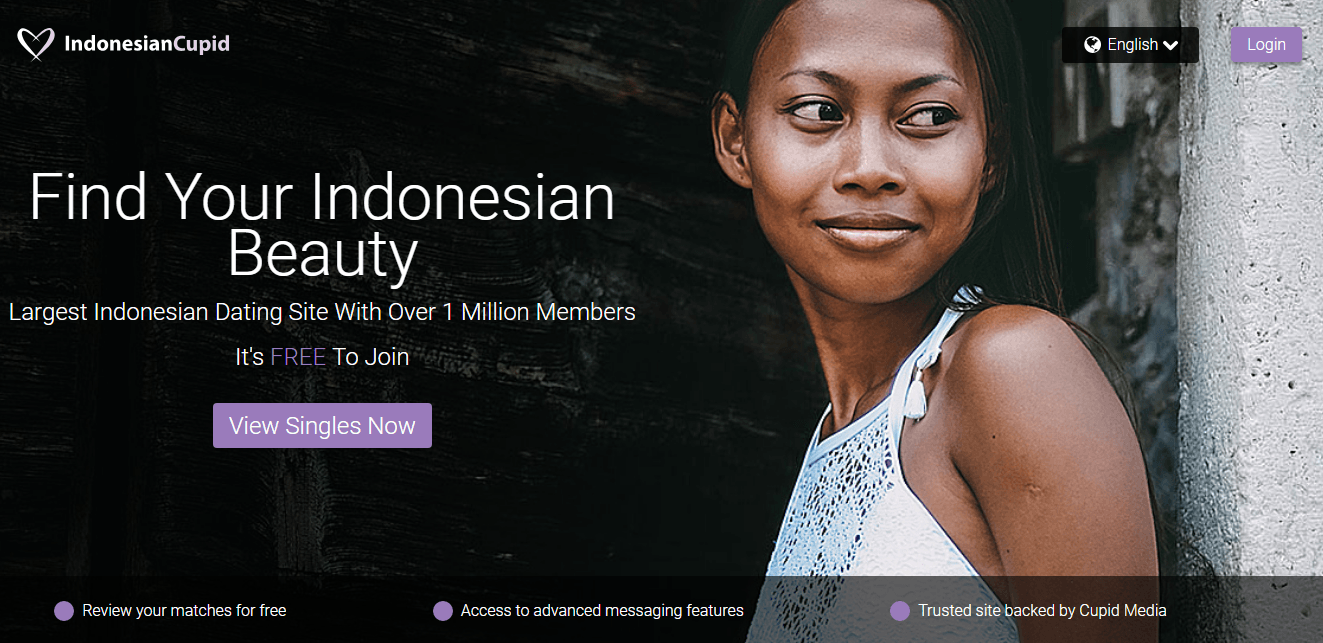 Indonesian Cupid is one of the niche dating sites from Cupid Media Party Ltd. Just like its fellow Cupid dating sites, Indonesian Cupid is very simple and functional. As its name suggests, it is catered to match Indonesians with other people all over the world.
Indonesian Cupid is known for its successful love stories and for gathering Indonesian singles from across the globe, but it is not for Indonesians exclusively. There are a lot of western singles who are on their journey to find their soulmate in Indonesia. While most of Indonesian Cupid's members are looking for serious, life-long commitment, you can find others who are just looking to have a good time. 
Because Indonesia is such a vibrant country, you will find interesting people on Indonesian Cupid as well. In fact, you will most likely find what you are looking for there, especially if you are a Westerner. While it is true that the cultural differences and language barrier will make it somewhat difficult to communicate with its native members, but this might also make dating them very exciting. 
Member Composition
Indonesian Cupid is created for Indonesian singles to find the love of their lives, claiming to be the biggest Indonesian dating site that caters to thousands of single people worldwide. This is not a far fetch, seeing that it has 168,000 members from the United States alone, and with 40,000 weekly activities, you can be sure to find some action here. However, there are more male members (70%) than female members (30%). Most of the platform's members are in their mid-20s to early 40s, and there are thousands of interesting, amazing, and beautiful women who are ready to mingle. 
Because there is a growing number of users on Indonesian Cupid, it has become attractive to both the local people and foreign men from all over the world. Most of its members are single men or women looking for serious relationships, that may lead to marriage. But you can still find some members who are just looking for fun or perhaps a simple date. 
Creating an Account
Just like with any other Cupid websites, signing up on Indonesian Cupid is a straightforward process. Right off the bat, you have two options on how you want to register your account. You can sign up by filling out basic information such as your first name, age, gender, name, country, and a valid email. The other and much quicker alternative is by linking your Facebook account to Indonesian Cupid. That way, your account information on the dating site will be synced to the one on Facebook by importing basic personal information and your Facebook profile picture. Of course, you can change any details on your profile at any time. 
Signing up is free, and there are no complicated, lengthy quizzes you need to answer before creating your account, so the whole process should take you less than 5 minutes. 
Messaging People
There are many ways to contact other members of Indonesian Cupid. Standard or free members can filter their match list based on basic characteristics such as age, gender, location, photo, and last activity. Premium users have more filters to choose from such as ethnicity, distance, popularity, etc. 
The messaging system in Indonesian Cupid is outdated, however. It does not support audio or video formats, so you cannot send voice messages or video clips through there. Moreover, just like any other Cupid dating sites, messaging is not free. If you do not have a premium membership, you will find it very difficult to message other members. Messaging for free is only possible if you are on the receiving end of the message from a premium member. "Show interest" is free, and it is similar to a "Like" or "Poke" on Facebook, but do not expect it to get you far. Therefore, if you are interested in investing time into Indonesian Cupid, it is best if you purchase a premium membership. 
Profile Versatility
As always, Cupid Media never fails to bring out the best of the best with its detailed profile system, so each member has a lot of room to express themselves. On each of its member's profile, you can see a lot of information about that person such as their hobbies, personalities, likes, and dislikes, etc. The profile section has it all. 
Standard or free members can enjoy much of what the profile system as to offer. Almost everything about the profile section is accessible for free. You can check out other member's profile page and picture, edit and update your profile as well as uploading your photo at any time with no restrictions. All of these features are for free, so you make a masterpiece out of your profile to show others just how interesting you are. 
Before you go ham though, it is worth pointing out that the site has its terms and regulations. Not abiding by them would lead to permanent termination of your account, so give them a read before you proceed. Indonesian Cupid is just as serious about the safety of its member as any other dating sites under Cupid Media, so there are a lot of security features. 
Because there is plenty of space to express yourself on your profile section, expect other members to expect you to fill out as much of it as possible. Many Indonesian Cupid members are serious about getting into a long-term relationship, so you will see just how detailed their profiles are. If you leave a lot of blank spaces in your profile, not many members will be willing to talk to you. This is because they see that you are not as serious about it as they are, plus they may take it you're a scammer, which could get you reported and banned. If you're short on time, it's always possible to fill out your profile later, but we suggest that you do it as soon as possible. Moreover, you can verify your identity so other members can trust you. All you need is a valid ID. 
Because information is key to having a good profile, and, subsequently, a good time, on Indonesian Cupid, it does not matter if you are fresh on the site or if you have been a member for years. If you do not put anything about you on your profile page, do not expect others to even talk to you. If possible, be diligent and keep your profile updated. 
Mobile Application

If you are an Android user, then you can download Indonesian App on Google Play for free. Just like its website counterpart, the app is also very user-friendly. When you log in there using your account, you will be directed to your match suggestions immediately. This screen shall also serve as your homepage. 
The app is similar to Instagram in terms of emphasizing on the photos instead of the details from the start. If you see someone you want to talk to while going through your match list, you can tap the heart-shaped icon at the bottom of their photo to "show interest," which will let them know that you are interested. To find out more about this member, you can tap on their names, which would take you to their profile page.
While there is no mobile app for iOS and Windows phone users, Indonesian Cupid's mobile website is just as good so you can always browse on the go. 
Design and Usability
Indonesian Cupid is designed similarly to its fellow sister websites under Cupid Media. Its web layout is simplistic, clean, and very organized, which means that both young and old users can use the website with ease.
However, its simplistic and uncomplicated design might not appeal to the younger users, although it allows for quick navigation. Because it looks so basic, it is as if the website is straight from the early 2000s. It is functional, but not very aesthetically appealing. 
But because Indonesian Cupid is more intended to help people find their soulmate online, the design does its job well enough. Its basic and functional interface has allowed many people to navigate easily without any unnecessary ads or overwhelming and distracting graphics. That way, you can focus on finding your match. 
Features and Prices
As a standard or free user, you have access to basic matching, send interests, and communicate with other paying members if you are the message's recipient. That alone should be enough for you to get a good feel for the website, but you should upgrade to a premium membership as soon as possible if you want to have the best experience on Indonesian Cupid. 
If you subscribe for the Premium Gold membership, you will have access to more features in addition to that of the standard user such as communicate with every online member, live chat with instant messenger, send and receive messages with no restrictions, no ads, hide your profile, and browse anonymously.
If you spend a few more bucks and get the Premium Platinum subscription plan, you will have access to all of the above with some more features. Those include getting ranked above all other members in the matching results, doubling your profile space, VIP profile highlighting so your profile stands out among others, additional and exclusive search features, instant message translation so that the language barrier is not a problem anymore, and advanced matching algorithms for better matchmaking accuracy. 
The price for the Premium Gold is at $29.98 a month, $59.99 every three months, or $119.98 a year. The monthly rate is $29.98, $20.00, and $10.00 respectively. As for the Premium Platinum plan, its price is $34.99 a month, $69.98 every three months, and $149.99 a year. The monthly rate is $34.99, $23.33, and $12.50 a month respectively. Of course, the monthly rate is there only for the sake of comparison, as you will get billed in one payment for the entirety of the subscription plan. 
Payment Options
You can choose from three payment options: a credit or debit card, PayPal, or Paysafecard. Subscriptions get renewed automatically at the end of their cycle. Because you will not get far without a premium subscription, you'll feel much more comfortable having upgraded to premium. If you do so, it is best just to go all the way and get the Premium Platinum subscription since you will be spending less than 5 cents a day on it anyway. 
Final Verdict 
Indonesian Cupid is one of the niche dating sites under Cupid media. It is one of Cupid Media's most significant success with over a million members worldwide, and the number is growing every day. While the site is intended to help Indonesians find the love of their life, that does not mean that it is for Indonesians exclusively. It welcomes everyone from all over the world, regardless of their race, ethnicity, or cultural background, so it is not at all difficult to find your one true love there. 
There are plenty of reasons why people would join Indonesian Cupid. Most of them want to find their soulmates while others want to have quick, casual fun. There are also some people who just want to get to know others and make friends. So, whatever you may be looking for on the website will be there because there are so many members from such a diverse background, you can be sure that there is something for everyone.
While the website may look old-fashioned, it has every feature you need to communicate with other members although you need to get a premium subscription plan to enjoy them.
Overall, Indonesian Cupid is a perfect website to get to know Indonesians and perhaps even marry one. Signing up is free and quick, so you can get started right away.
---
More online Dating Services
---