Pros
The registration process on FirstMet is very simple and straightforward

FirstMet has over 30 million registered users all over the world, so it has a really large user base

Online video chat

There is a mobile app

Free browse through profiles
Cons
The site is a bit dull and outdated

Messaging features require a paid subscription
Verdict
In all, FirstMet is an excellent choice for dating as it is hassle-free and remarkably user-friendly. Singles looking for either serious commitments or casual dating will feel right at home using its services.
---
FirstMet: Your Go-to Dating Site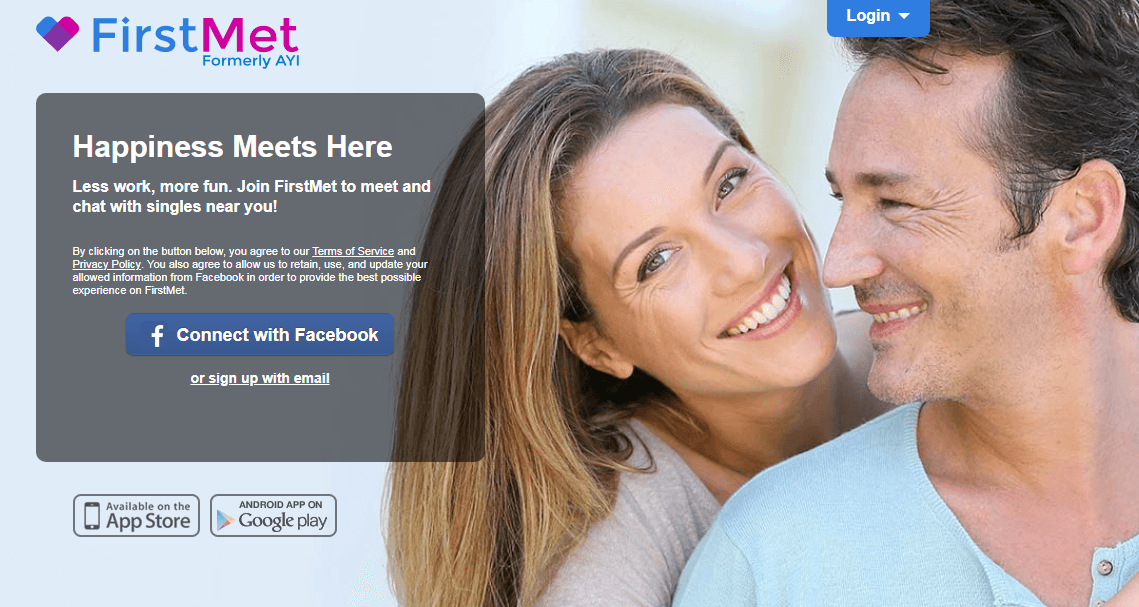 FirstMet is, as its name suggests, a dating website that could get you through the icebreaking phase. Initially called AYI (Are You Interested), it was launched by Snap Interactive (now PeerStream) in 2007. FirstMet caters to those who seek a lifelong commitment.  
Rebranded under a new name and a new outlook in 2012, it has borrowed and adapted many exciting features and functions from other mainstream social media site so its users can feel at home with the familiar interface. With over 30 million users worldwide currently, FirstMet is open to everyone whether they are looking for friendship, casual dating or serious relationships. FirstMet also integrates over 3 million users that come from Facebook. What makes this website unique is that it is well-rounded with a little bit of everything that people love about social media and dating sites. It is a lot similar to Facebook, and its app combines the simplicity of an iPhone app and the versatility of an Android app. This combination makes it very easy for users to connect, all of which is for free.
Members Composition
FirstMet has over 30 million registered users all over the world, half of which come from the US, UK, Canada, India, and Australia. While it got rebranded as a mainstream dating website, most of the users are in the 35 and above age range. While the site also caters to casual dating, most of its users are looking for serious, lifelong commitments.
Signing Up
The registration process on FirstMet is very simple and straightforward. Unlike other dating sites, you don't need to answer numerous questions. All you need to provide is the basic information like your name, email, location, date of birth, zip code, gender, sexual preferences, username, and password. In the gender and "looking for" section, there are only two genders to choose from which is a bit limiting. You don't even need to upload a photo when you sign up. Therefore, it can take less than a minute for you to get started on FirstMet, which is to be expected from a website with a design inspired by the rapid world of social media. 
You will also have to pick at least three interests from a bunch of pictures so the site can start matchmaking based on your hobbies and passions right from the start. When done, you can start using the site immediately because it does not require email verification. If you sign up using Facebook, then you will get through even faster, and your profile will be ready almost immediately. This is because FirstMet imports your photo and information from your Facebook profile to complete your FirstMet profile. It also automatically finds your location to help you find the nearest single. 
Messaging People
FirstMet shares many features of other mainstream dating sites. A notable one is its search feature. Unfortunately, there is no free search feature that other mainstream dating websites provide. Still, there are other ways to connect with other people on FirstMet. You can customize your matchmaking process by going to the "Search" tab. From here, you can look up other users based on their age, ethnicity, marital status, education, income, etc. You can also use the recommended matches system, just like on Tinder but without swiping left or right. You click on the check mark or the X if you are or are not interested respectively. Each recommendation contains a picture of the person, username, age, and location. If you wish to know more, you can click on their username to view their full profile. 
If you feel lucky, you can go to the "Intros" tab, where one new member will be introduced to you every day based on the site's matchmaking algorithm. Also, you can also try "Are You Interested," named after the website's old name. This is similar to Tinder, where you scroll through photos of other users and click "Yes" or "No." If you click on "Yes," and they also clicked on "Yes" on your profile, it's a match. 
Many of us feel very awkward talking to someone for the first time. As such, FirstMet has created an innovative chat system called "Icebreakers." They are basic questions the other member so they can answer to get the conversation going. It is worth to point out that you can also answer icebreakers, and free users can send and receive messages including icebreakers. This is arguably the most exciting thing about FirstMet. While other websites bar free users from one of its core features, which is messaging, FirstMet allows users to message freely.
Your recommendations are based on your preferences, and you can also expand your matches by adjusting the age range and preferred distance. If you are undecided about a recommendation, you can also skip profiles. Plus, there is also a chatroom.
Facebook integration into FirstMet is also done superbly. Basically, all you need is click on the app page, fill in your basic info, and click on "Meet My Matches." From there, everything is pretty straightforward as it functions just like FirstMet. You also get a section that displays any friends you have in common with your potential matches. Users are also welcome to browse by "Friends of Friends" or "One-by-One."
Profile Quality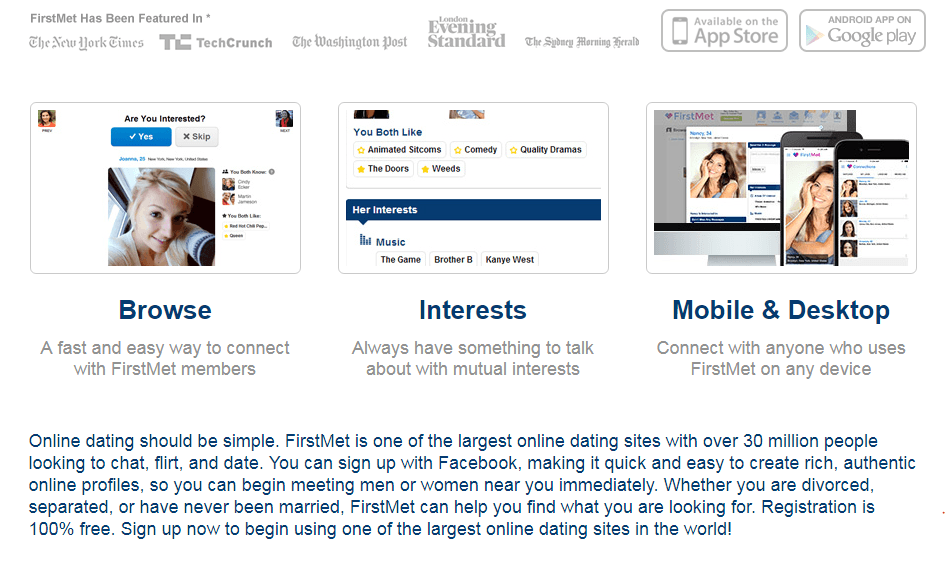 When it comes to viewing other's profiles, it strikes a user at the very first glance how FirstMet prioritizes user's interests. You can tell by its layout, with the right half of the person's profile listing only interests. Now, you might be worried about coming up with all the interests to fill out those blanks. There is an extensive list of books, activities, movies, and other interests to choose from, so filling up the blank shouldn't be too difficult. Your interests will be used as keywords for others to find and connect with you.
As a free user, you can view other user's profiles entirely. You can even see their online status and when was the last time they logged on. On their profiles, you can see detailed information about them such as their political stance, religion, ethnicity, and even zodiac sign. Therefore, the profiles you see are quite detailed, and you can always change your profile details whenever you want.
However, its openness to free users has caused a bit of a problem. For this reason, the use of VPN is forbidden as it counts as suspicious behavior. Because FirstMet detects your location automatically, they can quickly detect if you are using a VPN. If your IP address, GPS location, and current location are not consistent, you will be flagged as suspicious and could get banned FirstMet altogether. Even so, it seems that people have found other loopholes in its system, so it is best to be cautious of fake profiles on the website. 
Mobile Application
FirstMet also offers a mobile app just like many other mainstream dating platforms. Its app is an almost identical copy of the website, with the same layout and functionality, – so you should feel right at home. The app is a great addition because FirstMet is trying to expand its user base and bring in younger members. User-friendly as it is, the app is a great addition to FirstMet, and it is also convenient for all its users. While it does not offer anything new, it serves its purpose by allowing people to remain connected on the go.
Design and Usability
Judging by its look, FirstMet may seem a bit dull and outdated. This old and classic look reflects the majority of the site's users who are older people. While its design is lacklustre, it does look neat. The text bits, features, and menus are organized in a way so that it is easy to navigate and everything is accessible. 
The Facebook extension is also very well-designed, which fits in with FirstMet's idea to make its website and app to be as simplistic and user-friendly as possible. The mobile app is something to be amazed. The matchmaking system is efficient, the profiles are minimalistic, so the screen is not cramped, and the straightforward design helps you navigate with ease. 
You have the "Connections" button which shows the same lists found on the website. The second button leads you to the messaging system. The third one is to filter your results to narrow down your matched based on their age, location, and ethnicity. Members can also purchase a subscription to a premium plan through the mobile app.
Subscription Plans
As expected with any other dating websites, you do not have access to every single feature for free. Free services include account registration, profile creation, search for matches, and video chat which is done through Paltalk. There are also premium features, one of which makes your profile more likely to be found by other users. Another premium feature allows you to send and receive an unlimited number of messages. You can also see who viewed your profile so you could send them icebreakers if they are too shy to start a conversation. 
The price is very reasonable as well. A one-month subscription costs only $24.99. You will get a better deal if you go for the 3- or 6-month subscription plan for $49.99 or $74.97 respectively. For the latter two, you only need to spend $16.66 or $12.50 respectively compared to $24.99. 
Help and Support
While FirstMet shines in other areas, this is where it falls short, even though it is somewhat justified. Many online dating sites including FirstMet are pretty self-explanatory. Therefore, many users do not find any use for a 24/7 live chat support from FirstMet. Still, it is concerning for users who are interested in getting a subscription plan and run into troubles down the line when there is no phone number or email. FirstMet does offer a message form, though it is tricky to find, especially if you are using the desktop version of the website. However, the FAQ section is so extensive that you should be able to find an answer to whatever question you may have.
---
More online Dating Services
---