Pros
Mobile app

Receive and answer messages is a free feature

The profiles are informative

There are indicators if you are a premium and or verified member

You can block users

Profiles verification

Safety
Cons
Free members can't start a conversation with other users

SugarDaddyMeet's subscription plans are quite expensive compared to other dating services, even the ones in this niche
Verdict
SugarDaddyMeet offers excellent service. It is precisely what you expect from a premium-level dating platform. The profiles are informative, and the people behind them are genuine and friendly. We rate SugarDaddyMeet a respectable 4.5/5.
---
SugarDaddyMeet – A Safe Connection for Sugardaddies and Sugarbabies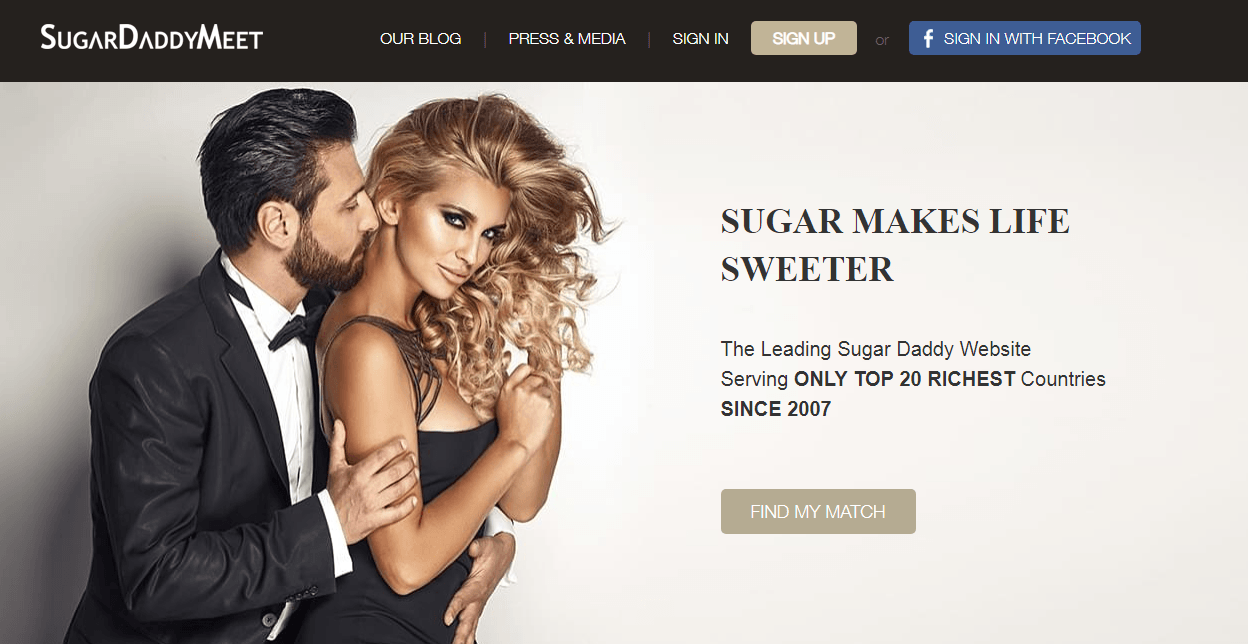 SugarDaddyMeet.com is an online dating platform providing a safe and reliable way for generous older gentlemen and ambitious and attractive young ladies to connect. It is operated by SuccessfulMatch, alongside with a constellation of niche dating websites, including MillionaireMatch, OlderWomenDating, etc. SugarDaddyMeet was created back in 2007 and has earned a flawless reputation of a site where sugar daddies and sugar babies will undoubtedly find an ideal match.
The platform is especially appealing for sugar daddies because of its gender ratio. There is an overwhelming majority (70%) of women's profiles here. So, a gentleman can allow himself to be picky without fearing to get left without a company. Sugar babies, on the other hand, have to show more zest to find a match than they would on other platforms.
First impression and the sign-up process
The design of the website is calm and non-aggressive. Laconic texts in neutral grey and blue fonts on blank white background prompt you to register immediately. If you are not in a rush, you are welcome to look through an overview of the site's features, terms and policies, and FAQs before signing up. 
As you sign up, you will notice that the list of countries to choose your location from is not quite complete. Apparently, SugarDaddyMeet only wants to work with the 'richest' (according to them) countries. This isn't entirely accurate, however, because the list doesn't include the wealthy Arab countries such as the UAE. The available countries include North American and West European nations (including their overseas territories), Australia, New Zealand, Japan, and South Korea. You are strongly recommended against specifying a country other than your own, as you will have to undergo phone verification. You receive a text message on the phone number you specify. It will contain a code that you have to enter on the website. If your phone code doesn't match the location you have specified, instead of receiving the code, you will get automatically suspended.
It's possible to sign up with your Facebook account and have your basic details (including your profile photo) copied from there. Alternatively, you can use email and fill in all the details from scratch. It will take a little more time, but it is beneficial if one wants to keep a certain degree of anonymity here, which is a reasonable concern for some SugarDaddyMeet users.
SugarDaddyMeet caters to heterosexual relationships between older men and younger women exclusively. However, they can hardly be accused of discrimination. If you are a gay sugar daddy (or sugar baby) or a sugar mommy looking for a young gentleman, SuccessfulMatch has a myriad of other niche dating websites that you are welcome to check out.
Regardless of the way you sign in, you will have to write a greeting line for your profile, a few sentences about yourself, and a few more about your ideal partner you'd like to meet here. Unlike most dating websites, SugarDaddyMeet has made these fields mandatory. This is one of the platform's many tools to ensure its users' authenticity.
Similarly, it's necessary to upload a profile photo (or have it copied from Facebook) making sure that it's authentic. All uploaded photos undergo manual verification which may take up to 72 hours. But it is usually ready within 30 minutes. The guidelines are simple: the photos have to be representative (clearly visible face), decent (no nudes), and not copyrighted (no celebrity photos).
Filling out your profile
As you see, the information you enter while signing up with SugarDaddyMeet is already quite sufficient to make up a complete and representative profile. You can answer some additional questions. This feature is called 'Fun Questions,' and your answers will appear in a separate tab of your profile for other members to see.
SugarDaddyMeet offers an option to send your love interest a present for an extra fee. If you want to receive a particular gift, you can add it to your wish list. It prevents your admirer from sending you unwanted gifts and gives them yet another little insight into your personality, your likes, and dislikes.
SugarDaddyMeet users are also encouraged to blog about what matters to them on the website. It's not mandatory, but it's an excellent way to share some additional details about yourself with the users viewing your profile. Naturally, you can delete your blog posts and add new ones whenever you like. The same can be done with your photos.
As we have mentioned, some SugarDaddyMeet users prefer to keep some anonymity for whatever reasons. You can choose to have all your photos private and share them with other members only at will. Notably, this includes the main profile pic. All uploaded photos will still, however, have to go through the same approval procedure and adhere to the same guidelines.
Website VS App version
A mobile app is essential for any online dating service. SugarDaddyMeet has a mobile app called SDM, but it's somewhat bizarre. First of all, SDM doesn't stand for SugarDaddyMeet, as one would reasonably assume, meaning Seek Date Match instead. Furthermore, it doesn't use the words 'sugar daddy' or 'sugar baby' anywhere in the app. It looks like the app tries to appeal to wider audiences, which makes little sense because it still accesses the same user base and offers the same features. In other words, we'd recommended that you use your phone browser to access SugarDaddyMeet from your phone instead of the app.
Member interaction: Free VS Paid membership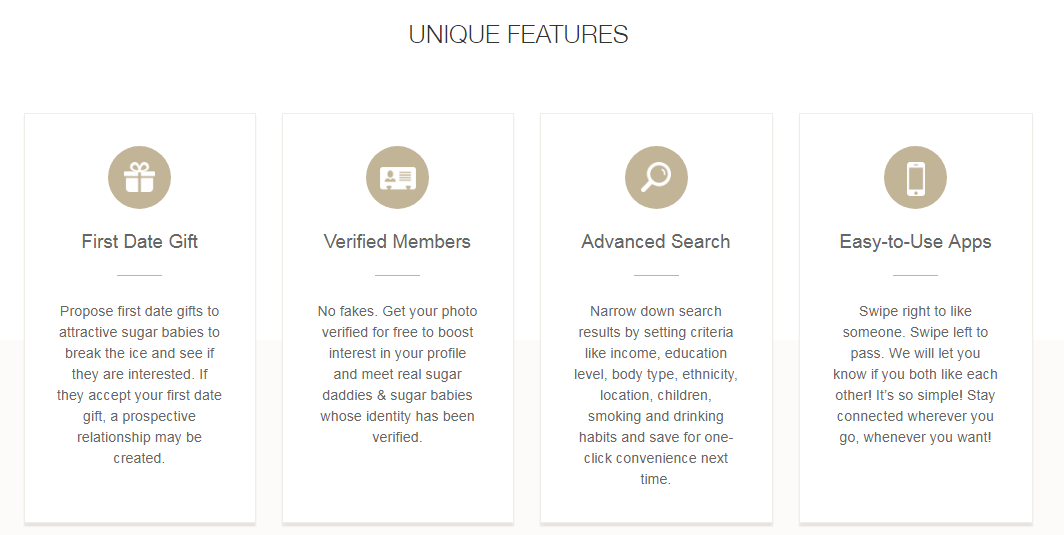 Even before purchasing a subscription, users get access to almost all the functions and features of SugarDaddyMeet. They can browse other users' profiles randomly or using search filters and chat with other users. However, they can't start a conversation. As a free user, you can only receive and answer messages. Still, there are ways to attract another user's attention in the hope that they will notice you and write to you first. For starters, you can like and comment on their profile, photos, or blog posts. The other user will instantly get notified about your likes, but the comments will have to undergo moderation by the staff first.
Interestingly, you don't have to view a user's profile to like their photo. If you don't feel like searching for a partner yourself, you can use the Let's Meet feature where you get to like or dislike the photos of random potential matches. One of your photos at least needs to be public for you to take advantage of this feature.
If you don't wish to receive messages from a particular member, you can block them and forget they exist. You don't need any reason for that other than the fact that you don't want this person to contact you. However, if the reason is serious – for example, scamming attempts, harassment, or any other suspicious or potentially malicious behavior, be encouraged to report this user. Just click the corresponding button on their profile page. SugarDaddyMeet's staff will investigate a suspicious profile immediately and take all the measures necessary without delay.
Only paying subscribers can enjoy the full set SugarDaddyMeet's features. Aside from the possibility to start a conversation with anybody you want, these include:
Profile highlighting. Premium members get more exposure appearing on top search results of other members.
Priority mail. Your messages will appear at the top of your recipient's correspondence, regardless of the chronology.
Gifts. Even though sending gifts to your love interest costs separately, free users have no access to this feature. Only paying subscribers can send gifts.
Advanced search criteria. As a premium subscriber, you can refine your search by adding a few more characteristics to get more accurate matches.
Automated matches. If you don't feel like searching through member profiles manually, SugarDaddyMeet offers an automatic matchmaking system. It tracks paying subscribers' activity on the website and uses this data to generate automatic matches for them.
Extra profile details to see. Viewing other members' profiles is free at SugarDaddyMeet, but paying members will see a few additional details there. They include the user's overall activity score, their last login time and date, etc.
Other special features
There are a few more special features that SugarDaddyMeet has to offer:
Dating tips. Most online dating platforms have blogs where they share dating advice. Those are often too generic and non-specific to be of any help. SugarDaddyMeet goes an extra mile here and offers valuable tips specifically for sugar daddies and sugar babies. They include first date tips, outfit advice, recommended and taboo conversation topics, etc.
Certified daddies. At such websites, it is often quite tempting for a sugar daddy to try and win some points by exaggerating his annual income, which eventually disappoints his sugar baby. Since financial matters are more crucial in such relationships than in others, it makes sense for such platforms to address this concern, but they barely ever do. SugarDaddyMeet offers gentlemen to become certified daddies and have this tag added to their profiles. To do so, hit the Verify button on your profile page and wait for a phone call from SugarDaddyMeet. They will call you and ask all the necessary details to get you certified. Such status will attract even more sugar babies to your profile.
Pricing and other financial details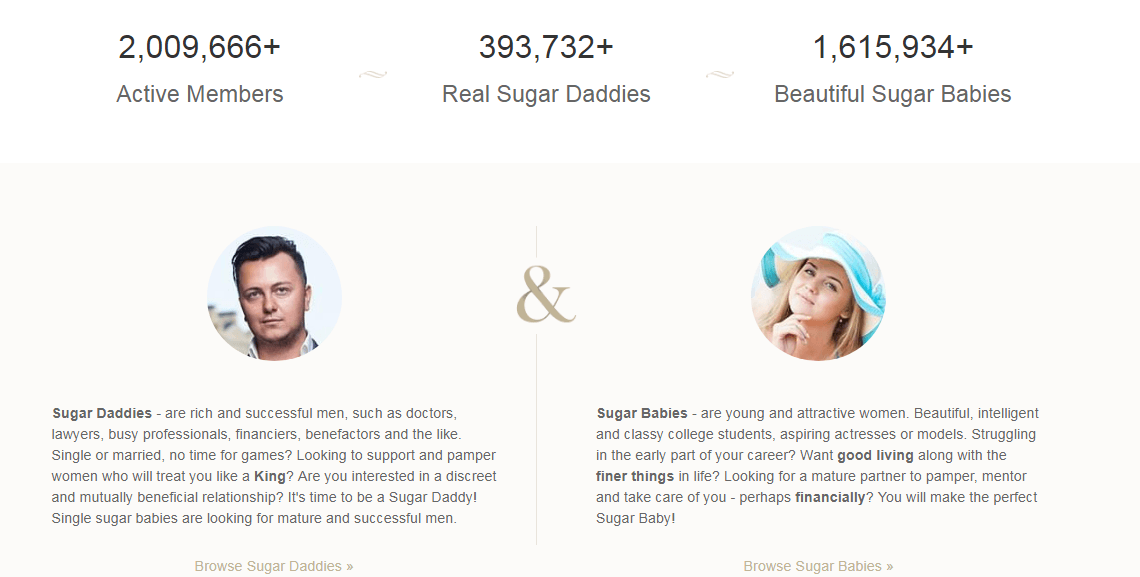 Admittedly, SugarDaddyMeet's subscription plans are quite expensive compared to other dating services, even the ones in this niche. With a six-month subscription, a month of using drops in price to $24 which makes it $144 for the whole term. A three-month subscription will cost $90, making it $30 per month. And subscribing for a single month will cost you as much as $50.
Upon the expiry of your subscription, it will usually renew automatically, and you will get billed. If you don't want that to happen, simply toggle the auto-renewal off in your account settings.
SugarDaddyMeet accepts all major credit and debit cards, PayPal, and even regular checks by mail. The in-built calculator will help you see how much the price is in your currency using the current official exchange rate at the moment of check-out.
Security and customer assistance
SugarDaddyMeet's top priority is a safe and enjoyable experience for all its users. In addition to the verification procedures that we have already mentioned, the platform's devoted team of moderators continuously browses the user database and instantly deals with non-authentic or inactive profiles. Evidently, they do an excellent job because the overall quality of profiles at SugarDaddyMeet is beyond competition.
If you come across any issue during your experience with the platform, consult with their exhaustive FAQ page. It is conveniently structured and covers all the possible concerns users may have. If you have no time or simply don't feel like browsing through the FAQ page, you can contact SugarDaddyMatch's customer support by any suitable means. There is email, live chat, submission form on the website (and in the app), a hotline, and even a postal address. Unfortunately, the hotline is not available outside the US and Canada. So, if you want to reach them from another location, you will have to use one of the other communication methods. 
Final word: Is SugarDaddyMeet legit?
SugarDaddyMeet offers excellent service. It is precisely what you expect from a premium-level dating platform. The profiles are informative, and the people behind them are genuine and friendly. There is an excellent set of unique features for online dating, and not for distracting users from it. The subscription is somewhat pricy, but it's worth every penny. And the customer support is accessible by whichever means you find convenient. They are also utterly friendly, prompt, and professional.
The only detail stopping us from rating SugarDaddyMeet excellent is its inconsistent app. It simply doesn't match the site and looks like it's from an entirely different platform. Thus, we have to rate SugarDaddyMeet a respectable 4.5/5.
---
More online Dating Services
---