Pros
Browsing through profiles, receiving and answering messages features are free for everyone

Transgender women can use the site for free

All profiles created and all photos uploaded undergo a strict verification process

There is a chatroom
Cons
There is no a mobile app

There is no Automatic matchmaking

Only premium members can initiate a conversation

The membership price is quite expensive if you don't buy a 1-year plan at once
Verdict
The platform does a great job providing a safe and stress-free environment for such connections. It does, however, lack quite a few features that are essential for an online dating service these days. That's why we can't rate MyTranssexualDate higher than 4/5
---
MyTranssexualDate: Where Transgender Admirers Find True Love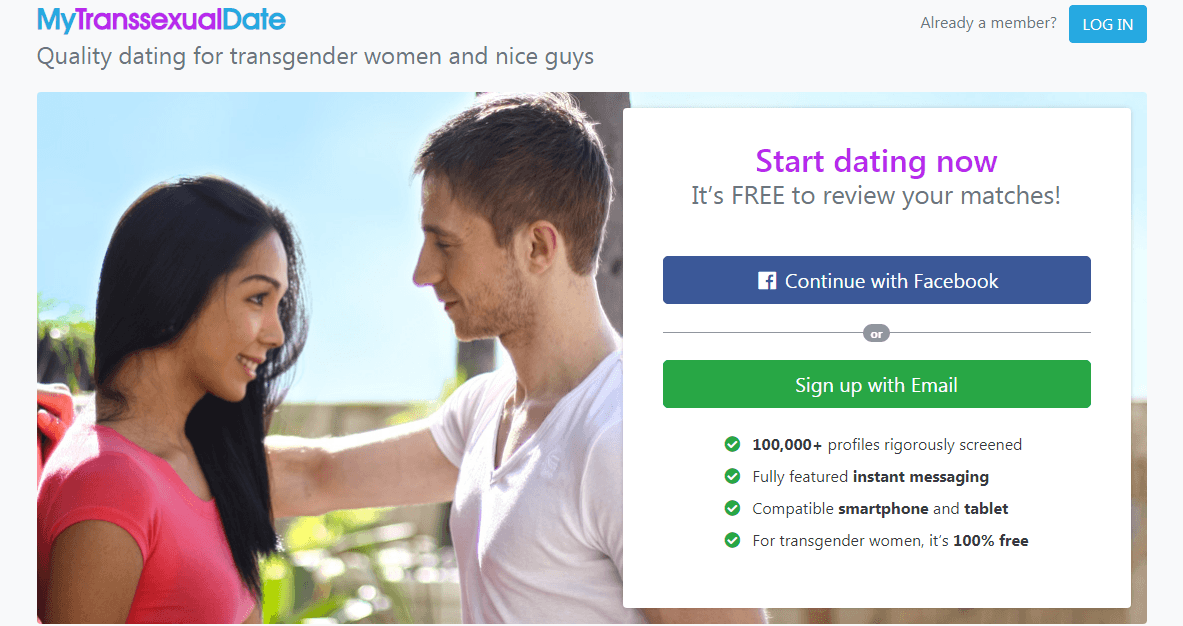 In case you are a transsexual or interested in transsexuals but haven't heard about MyTranssexualDate yet, it's because the platform is fairly new. The French entrepreneur Cyril Mazur and his transgender wife, Maki Gongoyon, started the platform in 2013. The site's mission is to provide a means of connecting transsexual women and men who admire them. The site caters to those who aim at a lasting commitment or even a family. It means that the managers of the website don't approve of people offering or looking for escort services or quick NSA hookups.
Why is MyTranssexualDate necessary?
LGBT+ community goes through various stages of acceptance in different parts of the world.
Moreover, different groups within this community gain acceptance in different societies unevenly. Historically, LGBT+ people have been marginalized by cis-hetero-centric societies. In the best-case scenario, the society would silently agree to allow these people to 'have fun' their own way as long as they don't make it public. Of course, coming out as an LGBT+ person and functioning as a fully-fledged member of the society was out of the question, and in most countries of the world, it still is.
Today, we see considerable progress in this regard. Through years of devoted activism and decisive struggle, gay people have earned recognition for themselves in those countries that we tend to call the most socially progressive – North America, West Europe, and a few other locations. There is still a lot to achieve, though, gay people do have equal rights and are no longer perceived as some alien threat in those countries. Nevertheless, it only concerns cis gay people while transgender people remain excluded to a significant extent.
The collective mindset still marginalizes trans people and sees transsexuality as a whim or a trick. Many conservative-minded men still think that transgender women are nothing more than mischievous gay men who want to deceive straight men into having sex with them. Some radical feminists, in turn, insist that transsexual women are nothing more than perverted men who either fetishize thus, blaspheming the sacredness of a female body, or cross-dress to find their way into ladies' rooms and women's lockers for their perverse purposes.
Either way, a transgender woman often remains viewed as some villain who has no place in a decent society and should stay in the margins. As such, this person should either accept the margins or pretend to be a cis man. Up to this day, even in the most 'progressive' societies, transsexuality is viewed as a sexual fetish that should remain behind closed doors. According to such opinion, men who feel like cross-dressing can do so and explore their sexuality with other men who feel attracted to this 'fetish' (of course, only under the condition of full disclosure and mutual consent), but not more than that. In other words, hookups are ok, but a lasting commitment or any other form of 'happily ever after' is not an issue.
Well, Cyril, Maki, and MyTranssexualDate.com beg to differ. It would be naïve to deny the fact that some men have a fetish for t-girls but only look for one-off hookups and that many of the latter are ok with that. Such hookups do happen, and sometimes it's even financially-based. The website's team acknowledges the existence of such a tendency, but they decisively discourage such behavior on their platform. Here, trans women and their admirers are welcome to meet for genuine, earnest purposes and start relationships that would go way deeper than one-night stands.
First glance and registration
The layout of the website is fairly simplistic: white background and smooth fonts are eye-pleasing. There are no ads or other distractions, and a visitor can sign up immediately. Before you do, however, you are welcome to scroll down to see a few thumbnails of members (both men and trans women) in your area, read the platform's terms, their blog, user feedback, etc., – if you're not in a hurry. As a pleasant surprise, besides English, the website is fully available in Chinese, French, German, Italian, Japanese, Portuguese, Spanish, and Thai.
Upon clicking the signup button, you will have to provide your essential information: your email address, first name, password, location, and birthday. You can sign up with your Facebook profile, and this information will be automatically copied from there; you can verify or modify it. This is the only case when the platform will use your Facebook account. They will not post anything on your behalf or edit your profile. Notably, there are only two gender option: 'man' and 'transsexual woman.' It is a critical detail because your further experience at MyTranssexualDate will depend on your gender. To validate your account, follow a verification link that you will receive by email.
Once your account is validated, you can fill out your profile. Unlike many dating platforms, MyTranssexualDate doesn't ask you countless questions. You write a tagline, a paragraph or two for the 'About Me' section, and upload one or several (up to 16 for basic users, and an unlimited number for premium subscribers) photos. It's quick and effortless, but MyTranssexualDate's staff reviews all the entered information manually. Usually, it takes up to one hour, and then you receive an email with the results. Either you get approved and are ready to go, or the moderators will specify which of your profile details need to be modified and how. Admittedly, it's refreshing to come across a service that doesn't reject profiles for no reason leaving you blind and confused but tells you exactly what is wrong.
Since the platform attends specifically to relationships between men and transsexual women, users cannot choose their sexual preferences. Instead, all men are assumed to be looking for transgender women and vice versa.
Notably, you can specify your sexual role. But isn't it somewhat off-putting to see this detail on a platform that poses itself as a place to find more than sexual encounters? In fact, it makes sense because it saves you from the possible disappointment and wasting time and effort on building a relationship only to find out that you and your partner are not compatible sexually. We strongly recommend not shying away from answering this question in all sincerity when you fill out your profile here.
As we have mentioned, a profile creation will be somewhat different for men and transgender women:
For trans women
If you specify your gender as a transgender woman, all the fields will be mandatory for you to fill out. Additionally, you will have to specify your sexual reassignment details: pre-op, post-op, non-op, or transvestite. Respectively, these options mean before surgery, after surgery, not allowed to undergo surgery, or not willing to undergo surgery.
All this is necessary to make sure that members registering under this gender are indeed genuine and will not abuse the community. As the website's first page indicates, transgender women can enjoy all the website's premium features, including uploading an unlimited amount of photos, for free. So, providing and verifying all the profile details are supposed to stop ill-intended people who, not being a transgender woman, want to use the site's premium features. Only upon verification, this user will gain access to MyTranssexualDate's full functionality.
For men
For men, filling out the profile to the full is recommended but not mandatory (including the sexual role). Regardless of how many fields a man fills out completing MyTranssexualDate.com, he has to purchase a subscription to enjoy the full set of the website's features. Any information these users enters still undergoes verification.
Member interaction on the website
MyTranssexualDate offers only basic search tools. There's general search where you enter some criteria, like gender, location, etc., and then browse through your search results to see if someone catches your eye. Alternatively, you can see who's online now and write to them whenever you feel like having a chat.
Searching and browsing through profiles is available for all users, as well as receiving and answering messages. However, only premium members can initiate a conversation. This means that a man has to either wait for a woman to get interested in him and write first or purchase a subscription. Additionally, premium members have their profiles showing up first in other users' search results.
Subscription plans and other payment details
One can't help but notice that paid subscription at MyTranssexualDate.com is somewhat more expensive than on similar dating services. However, you shouldn't see it as a rip-off. The platform emphasizes that its mission is not to earn money – they work for the cause. A paywall is yet another means of precaution against ill-intended people. Besides, this money goes for transgender causes.
A subscription for one month will cost male users $29.90. As one would expect, it gets cheaper if you subscribe for a more extended period. As such, a subscription for three months costs $68.70 ($22.90 per month), the one for six months is $101.40 ($16.90 per month), and the one for a year is $130.80 (only $10.90 per month). Naturally, you get billed for the whole period at once.
These prices are for the USA and its territories in which the US Dollar is the official currency. Interestingly enough, the prices are slightly different for other counties. For example, members from the EU will have to pay 24.90 EUR for a one-month subscription. It is about as much as $29.90 but not precisely. You will have to specify how much your preferred subscription plan costs in your currency. But nothing to be afraid of here, – there will be no fine print or hidden fees.
When your subscription expires, you will get notified by email, but it's your responsibility to renew it if you wish. Unlike other dating services, MyTranssexualDate doesn't renew subscriptions automatically, and there isn't even such an option.
Aside from major credit and debit cards, MyTranssexualDate accepts PayPal and Bitcoin.
Setbacks and disadvantages
MyTranssexualDate works flawlessly, but it shouldn't be too difficult to maintain such a service because the set of functions and features is quite limited. It only offers the most basic means of communications – the ones that other dating websites were offering back at the dawn of the Internet. Here are the features that we expected to find at MyTranssexualDate but didn't:
App. Today, it seems unusual to come across a dating service without a mobile app. MyTranssexualDate is one of the rare cases. Moreover, the website isn't optimized for mobile devices, so accessing it from your smartphone doesn't provide for an equally enjoyable experience.
Alternative means of communication. It has been widely rumored that MyTranssexualDate is about to launch video chats for a while now, but there hasn't been any official announcement yet. Aside from that, we'd expect some way to attract another user's attention without writing them – likes, winks, or anything like that.
Automatic matchmaking. You always have to look for someone to talk to on your own. Not every person always feels like it. Wouldn't it be great to get matches completely with no effort, even if they are not 100% accurate?
Final word on MyTranssexualDate
It's inspiring to realize that a platform like this exists. Here, transgender women can connect with their admirers without fear of being fetishized. Likewise, men who like transgender women for more than just sexual encounters can meet their potential beloved ones here. The platform does a great job providing a safe and stress-free environment for such connections. It does, however, lack quite a few features that are essential for an online dating service these days. That's why we can't rate MyTranssexualDate higher than 4/5.
Still, if you are looking for the kind of connection in which this website specializes and are ok with being limited to written communication, you will hardly find a better place on the entire Internet.
---
More online Dating Services
---