Pros
Registration is a simple 2-step process

Advanced search options

There are 3 types of members: free, gold, platinum

You can add members to your favorites, send notifications of interest, send messages to premium members for free

There is a mobile app

The profiles can be translated into a language of your choice

The profiles are quite detailed
Cons
Standard members have fewer communication means than paid users

Profiles are not verified. You can use random email
Verdict
VietnamCupid is great for people who want to meet up with potential Vietnamese matches or simply speak to people about the culture and make new friends. From pen-pals to potential spouses, this site has options for everyone.
---
VietnamCupid Review: Major Features Explained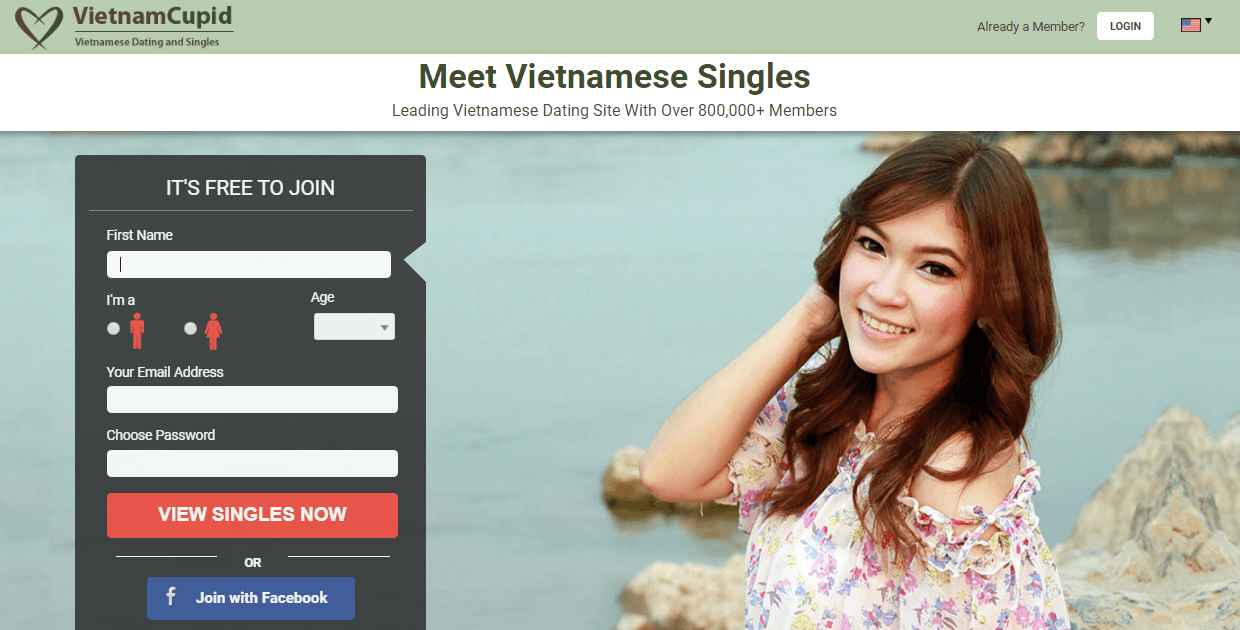 VietnamCupid is a booming dating site with over 800, 000 members worldwide and 190,000 US members. Owned by Cupid Media, a niche dating site company, VietnamCupid is well known for the many users interested in inter-racial dating. It is the largest site outside of Vietnam, specializing in Vietnamese dating. 
Many people join the site, even though they are not Vietnamese, as they are interested in the people and the culture of this Asian country. Although this is first and foremost a dating site, most people on the platform are not looking for hookups or short term relationships, but rather long-term commitment or even marriage.  The website is easy to use, but this also opens the doors to people listing fake profiles to catfish or scam other users. It would be safer to chat with verified members to avoid potentially bad experiences with scammers.
VietnamCupid Users
Starting up is easy as you can use any email to register a new account. Fill in your profile information, and you can start messaging interesting people. Approximately 25,000 new profiles are created each month. Note that the gender proportions are quite skewed in: around 65% are male and only 35% are female. On the upside, about 1000 members are active on the site daily, so your odds of chatting to a potential date are still great. 
Many of the site users are Asian, but you can also find people from all over the world. Anyone interested in meeting Asian people is welcome to join,  and of course, Asian people looking to meet European matches can also make the most of this platform. All in all, the range of users on the site is very vast and so are their romantic preferences. Some people are looking for romance, some for platonic friendship only, and some are hoping to find a potential soul mate.  All age groups are present on VietnamCupid, even though 25-34-year-old demographics slightly dominates. 
How to get started
Signing up is easy and free! 
You have to be over 18 years old.
You can use any email to sign up.
You can sign up via your Facebook account (the site will not post on your page).
Registration is a simple 2-step process.
You can choose to sign up quickly, using your Facebook page, with the assurance that VietnamCupid will not post on your page. Or, you can create an account the old-fashioned way, by using any email address. Registration is free, but there are many benefits added when you subscribe for the Gold or Platinum premium membership plans.
Member interaction on VietnamCupid
Okay, so once you have signed up, what's next?  Finding someone to chat to!
There is a search function which allows you to search for pen-pals, romance/dating, marriage or just friendship
Users can search for matches based on lifestyle, appearance, cultural values and background
Once you get some results, you can click on the "Show Interest" feature. This allows for easy first contact with a potential partner or a friend 
You can add people to your "Favorites" 
Messaging between members on the Premium and Standard members is free
Standard members can contact premium members only and not other standard members 
Standard members have fewer communication means than paid users
What does this mean for you? It is really simple to find someone that meets your requirements with regards to appearance, background and other interests. You can also match up with people looking for similar types of relationships as you do. While you can indicate that you like someone and can also save their profiles under favorites to peruse later, it takes a premium membership to enjoy the full experience of this site. If you are new to VietnamCupid, it doesn't do any harm to have a look around, run a few searches and favorite a few profiles. You can then subscribe when you are ready, so you can contact people that interest you without restrictions.
VietnamCupid Profiles
You can see users' online statuses
You can see users' last activity time 
The profiles can be translated into a language of your choice
You can see income, employment status, living situation, and home type
You can also see all the languages a user speaks
You can update your profile information at any time
There is a lot of detail that can be filled in to find someone that matches your expectations
Everyone can see other users' profile pictures
What can be worse than thinking you have met your match, messaging the person and months later realize that the profile has not been active for years? It's always good to check when the person was last online so that you have an idea if you are likely to hear back from this person or not. Similarly, if someone you fancy is online, you have a better chance of an instant connection when you message a person who is currently active. 
The site profiles allow for a lot of detail to be filled in so that you can find out a lot of basic information about the other person before you add them to your Favorites or express interest. You can view user profiles in Vietnamese or English. The information in user accounts may not always be important to you, but it does allow for points of interest which can become great conversation starters. You can see if the person is working or not, their annual income and what type of home they live in (house, farm, townhouse, condominium, apartment, etc.). 
Their living situation can be very important as well, depending on the relationship status you are looking for. The choices are: living alone, living with family, living with friends, living with kids, living with a spouse. This can be quite important in deciding whether to contact the person or not. There is also an indicator of language ability in Vietnamese and English. This will help you ensure that you can communicate with the person in person in question.
The site has many text fields under its profiles, but most of this information is not mandatory. Users are free to fill out only as much info as they are willing to share. If you don't want to fill everything straight away, you do not have to. You can return to your profile and fill in or change any of the information, at any point in time.
VietnamCupid App and Site Design

The App is Free!
The App is for users 18+ only
Available to Android users
Not available on iTunes 
Over 50,000 installs as of today
Love the site so much that you want to chat even when you are not at your PC? Download the app and take VietnamCupid with you wherever you go. The mobile version is currently only available for Android users. The download is free, but it is specifically rated for users of 18 years or older. The app is gaining traction with over 50,000 users having downloaded the app so far, with the figure increasing daily. There is no Apple version as yet, though.
The site is designed to be simple to use and offers an easy and workable way to match up with a Vietnamese person or even another global user online. The layout is very good, and everything is easy to read and figure out. The dual language choice makes it a great solution for English and Vietnamese speaking people. The theme is not pretentious and sticks to mostly neutral colors for easy readability. It does not have too much startling or flashing graphics, nor there are pop-ups that interrupt user experience. VietnamCupid is a comfortable site to navigate, and it does not strain the eyes even after using it for some time. Refreshing and functional, this site is perfect in its simplicity.
How much does it cost to use VietnamCupid?
Standard membership is free! This allows you to set up a profile, add your profile photo plus additional photos, and search for basic matches. You can add members to your favorites, send notifications of interest, send messages to premium members, as well as view profiles of premium and standard members. You can see who is online and browse other profiles for free.
Premium membership offers you a chance to communicate with all members without restriction. You can start live chats or send text messages. You will not be exposed to any ads while browsing, chatting and so forth. You can browse other profiles anonymously if you don't want someone back-linking to you. You can also hide your profile for some time if you want.  You will also have a chance to rank higher in the search results. Premium users receive a double amount of profile space, which allows them to have more detailed, attention-grabbing accounts. Other features include profile highlighting (VIP), advanced and exclusive search features, translated messages and better algorithms for matching to that perfect person.
Gold Premium membership 
1 month $29.98
3 months $59.99 ($20 per month)
12 months $119.98 ($10 per month)
Platinum Premium membership 
1 month $34.99
3 months $69.98 ($23.33 per month)
12 months $149.99 ($12.50 per month)
Payment can be made via Paysafe Card, Credit Card, Paypal or Bank Transfer. The memberships are set for auto-renewal, but this can be turned off anytime. From the Settings menu, you can choose Billing and turn Auto-renew to "No" and save the settings to prevent auto-renewal of your subscription.
Other features available
You can set additional filters based on what kind of user you want to hear from. This includes user location, age, languages spoken, etc. Messages that fall under your requirements will go directly into your VietnamCupid mailbox. Filtered out messages will go into a different mailbox folder.  You can ignore them or check these at your leisure. 
You can also add tags to your profile. These "Cupid Tags" allow you to list words you think suit you best. Then, when people add any of these tags to their searches, you will come up in their search results.
Conclusion & Takeaway
While VietnamCupid is set up to appeal to an Asian niche, especially related to Vietnamese audience, it is not exclusive to people of this specific origin. The benefit of this niche site is that people who are looking for relationships with others from similar backgrounds and cultures are likely to find sites like this of great value. While this platform focusses on people of Vietnamese origin, it still welcomes users from all walks of life. The only restriction is that they should understand either English or Vietnamese (or both), as the site only offers these two languages at the moment. 
The free membership does hold some benefits even though there are some restrictions on what can be done with a non-paid account.  VietnamCupid is great for people who want to meet up with potential Vietnamese matches or simply speak to people about the culture and make new friends. From pen-pals to potential spouses, this site has options for everyone.
---
More online Dating Services
---