Pros
A variety of options for communications: blogs. chats, chatrooms, message boards, etc

Members can create their own blogs

It's totally free

Detailed and careful verified profiles

Members are active and responsive
Cons
No mobile app

Customer support isn't perfect

Outdated design
Verdict
We rate TransgenderDate.com a solid 4.5/5. They have succeeded in creating a safe platform where trans people (as well as anyone else) are welcome to be appreciated for who they are
---
TransgenderDate.com: Finally, a Dating Site for Trans People!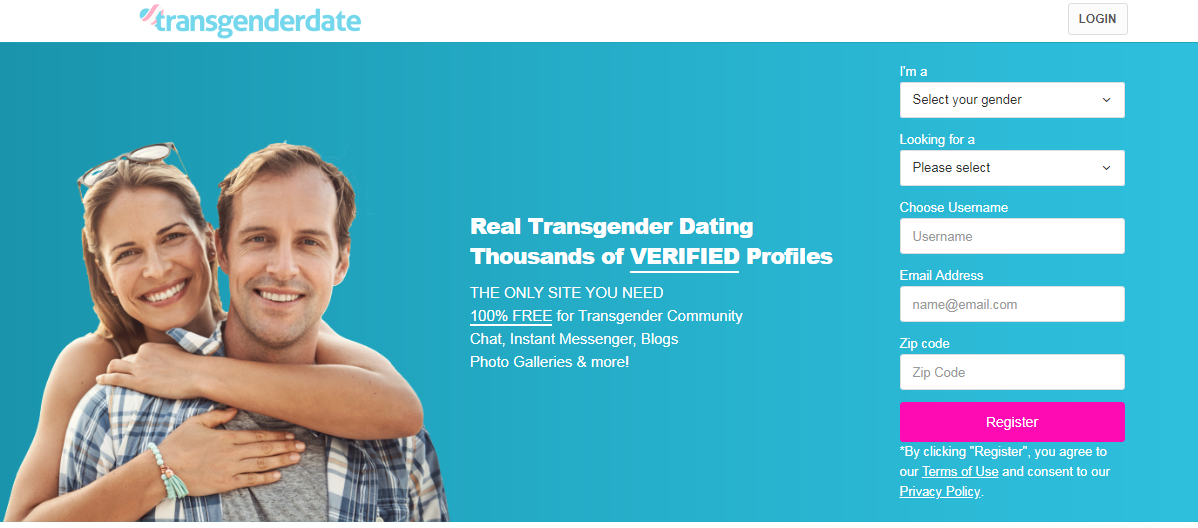 With today's variety of the most diverse dating services, both general and niche-specific, there's one group whose needs and longings still get unjustly overlooked even today. We are talking, of course, about trans people. Maybe it's because the group is not too numerous. Or maybe it's because the discussion is still not concluded as to whether they fall under the "straight" or "gay" tag and a potential dating service wouldn't know how to position itself. Regardless of the reason, there is a community whose needs have been overlooked – until now.
Today, there is TransgenderDate.com – a platform aimed at helping trans people to connect and socialize. They have already built a community of over 110,000 members globally. The vast majority of members (about 80,000) come from the US, and other largely represented nations are Canada, the UK, Iran, and the Netherlands. As we have mentioned, the trans community is still on its way to define itself, which creates apparent obstacles to a dating service aiming at such an audience. Let's see how well TransgenderDate could tackle this challenge.
First impression: Design, layout, and navigability
For better or worse, the excitement of the idea behind TransgerderDate did not translate into the website's design. There's not even a hint of excitement, – it looks simplistic, straightforward, and – some might even say – boring. Yet, the color palette is eye-pleasing and welcoming in its baby pink and powder blue – the trademark colors of the trans community. The fonts are also minimalistic and somewhat old-school.
This simplicity, however, reflects the site's mission. It is about providing a safe and friendly environment for trans people and not about pushing the user into buying something. In fact, the website makes it clear from the get-go that it's 100% free. From this perspective, it doesn't make sense for the design to be too flashy. Instead, they choose to look soothing and non-aggressive. The navigation is also intuitive and seamless.
Ad policy
As one may guess, a platform that offers its services for free has to generate revenue from ads. That TransgenderDate does, but they don't put it before their mission which is, once again, to provide a safe and friendly environment for trans people to connect and interact. As such, you won't see any aggressive ads from AdSense or TrafficJunkie. Instead, TransgenderDate negotiates with potential advertisers itself to make sure that the advertisement on the website accords to the theme and is indeed interesting to the audience. In fact, throughout your online dating experience at TransgenderDate.com, you will see prompts offering to advertise your business to the transgender audience on the website.
Signing up and creating a profile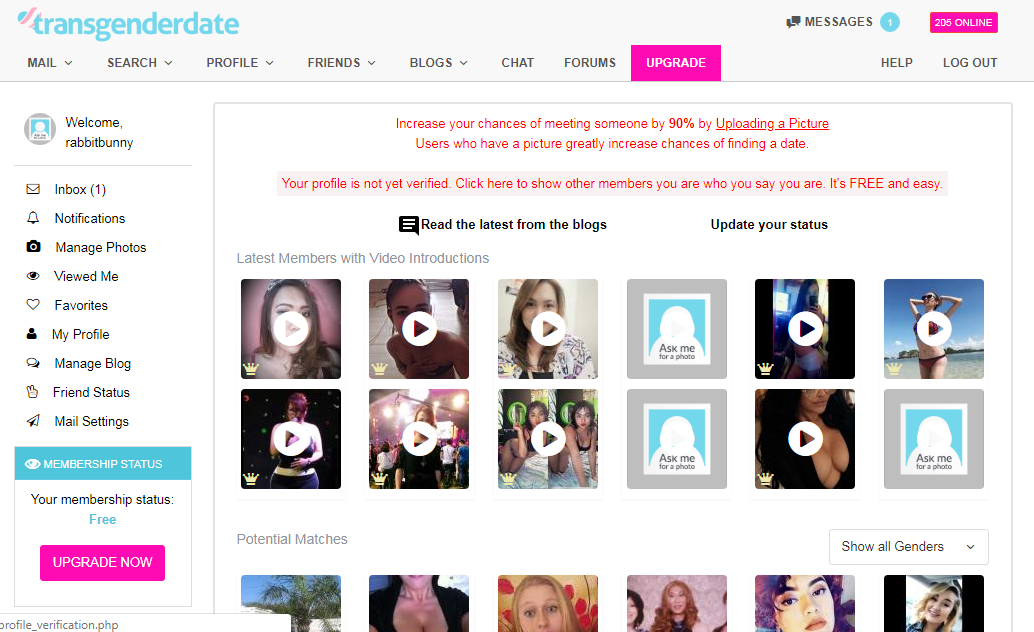 Unlike with many other dating services, there is no option to sign up with your Facebook or Google account, – users always have to register "from scratch." That said, this doesn't complicate the process one bit, and you can have your profile ready in less than one minute. Specify your gender (out of eight options), who you're looking for, your desired username, your email address, and your location (zip code), – and that's it. There isn't even email verification. Note that you won't be able to change your username later on, so you have to pick the one you'll be happy with from the start. If you want to have a different username, you'll have to register anew with a different email address.
"But the website claims to have only verified profiles. How do they go about that if the registration is so simple?" – you might wonder. That is a reasonable question, but the answer is simple. Upon creating your profile, you should click the "Verify" button on your profile page. Then, you'll be assigned a number, and you are to write it on a piece of paper, take a selfie with you holding this piece of paper, and upload it. This system is so evident that it seems strange that more websites don't use it and opt for more complicated gimmicks instead. You shouldn't take too much care about looking good on the picture because it will get deleted once the verification is complete. It will not be added to your profile, and nobody except moderators will ever see it. The verification procedure takes up to 24 hours, but usually, it's ready much sooner than that.
You can use this time to fill out your profile. No questions are obligatory, but – same as anywhere else – they help you to present yourself more clearly to other members. These questions include the whole variety of details that one may want to know about another person: from age, weight, and eye color to religion, income, and current relationship status. Unlike your username, you can modify all of those details at any time. There is also an option to add some questions that other members may use as prompts to start a conversation with you, – an excellent icebreaker. As a cherry on top, there is a unique possibility to add music to your profile, – something that few other dating sites would even consider.
You can also upload a virtually unlimited amount of photos. Users can upload up to 500 photos to one profile, but all pics need to undergo verification, too. They all need to be pictures of you. It's not forbidden to upload nude photos, but those have to be marked as "friends only" or "private." "Friends only" means that the photos are only visible to people from your friendlist (yes, like on Facebook), and "private" means that you set up a separate password and provide it to other users for whom you want to unlock those photos. If the photo isn't a nude one, you are also welcome to mark it as "friends only" or "private." The verification of a photo may take up to 12 hours upon upload but – once again – usually goes much faster than that. You may opt not to upload any photos, but you must know that your interaction options will be slightly limited in such a case, aside from the fact that you will attract less attention from other users.
Profile quality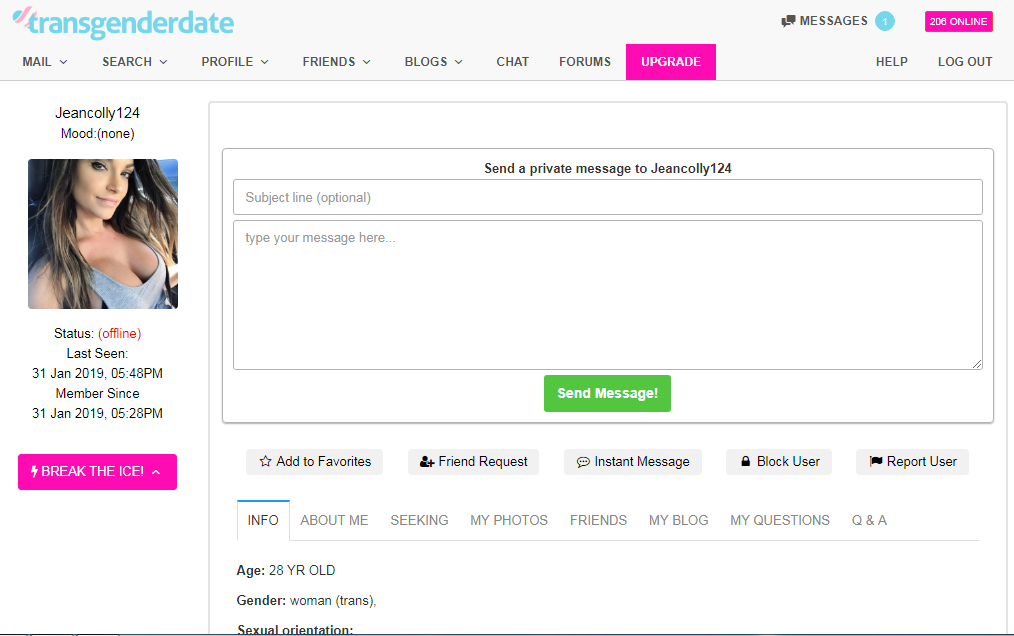 Having browsed through profiles, we have observed that, despite how non-mandatory all the prompts and questions are, the overwhelming majority of members try their best to have their profiles as detailed and accurate and possible. We haven't stumbled upon a single profile without a profile pic. The response rate also leaves no room for complaint, – there was not a single instance where our message didn't get a reply. In general, TransgenderDate produces the impression of a community of like-minded people who are overwhelmingly enthusiastic about the very idea of having a platform like this for themselves, not unlike a religious community.
We must also note the diversity of TransgenderDate's audience. There are people of the most carious sexual identities and preferences. There are also people who are simply curious about various transgender-related aspects and those who question their own identity and seek advice. In other words, this platform serves well for finding not only sexual or romantic interests but also friends and conversation partners.
A variety of options for communications
Contrary to many other dating websites – especially the niche ones, Transgender doesn't have any subscription plans or charge its users for any of the functions. Following its mission of creating a safe environment for the interaction of trans people, TransgenderDate only cares that all the users were genuine. As such, you only get access to the website's essential functions once your profile is verified. A few additional features are available only to users with a profile pic.
Instant chats, messaging, etc.
This function is the basis for any dating service. At TransgenderDate.com, verified users can have chats with each other or exchange emails. The difference is that an email is usually longer and does not suggest an instant answer. Also, an email can have images or other files attached to it, which is not available for chat messages.
Chatrooms and message boards
In case you are not sure what you are looking for at the moment, you are welcome to join one of TransgenderDate's many chatrooms and mingle with people there. There is a general one and topical ones. There are also message boards where members discuss everything in the world – both transgender-related and off-topic.
Blogs!
As if the features mentioned above weren't enough, TransgenderDate has also given its users the opportunity to blog within the website. Even though it's not mandatory, members are encouraged to blog about everything they find interesting or worth discussing, without focusing on a specific theme or topic strictly. You can find posts on everything – from transgender-related political issues to cooking, sometimes within one blog. If you don't feel like starting your own blog, you can still engage in meaningful conversations in the comment sections, but this is one of those features only available to members with a profile pic.
Drawbacks and shortcomings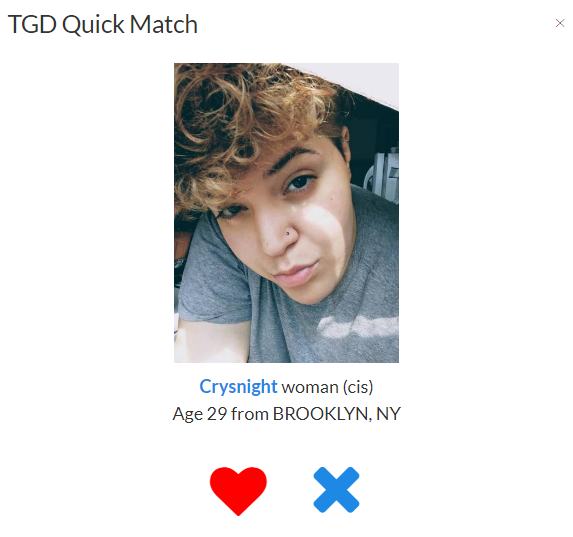 With all its exciting and undeniable advantages, TransgenderDate is not without flaws, too. Aside from the humble-bordering-on-boring design that we have already discussed, there is a couple of other setbacks worth mentioning:
No app
The idea to have a transgender-focused dating platform seems progressive. So does the idea of such a platform having its own mobile app. Yet, for whatever reason, TransgenderDate didn't bother to develop the app, at least for the time being. The only way to access the site from your mobile device is through a browser. There is a well-optimized version of the website for mobile browsers, though, and apparently, TransgenderDate thinks that it should suffice. We must agree: it doesn't load superfast, but it's also not as slow and inconvenient as one might expect.
Limited customer support
The only way to reach the website stuff is via email. There are two email addresses: [email protected] to report abusive behavior and [email protected] for any other issues. There is no hotline or live chat to get assistance instantly. This shortage, however, is somewhat compensated by a friendly and responsive community of members who are always eager to help each other.
Final verdict: What is TransgenderDate and for whom it is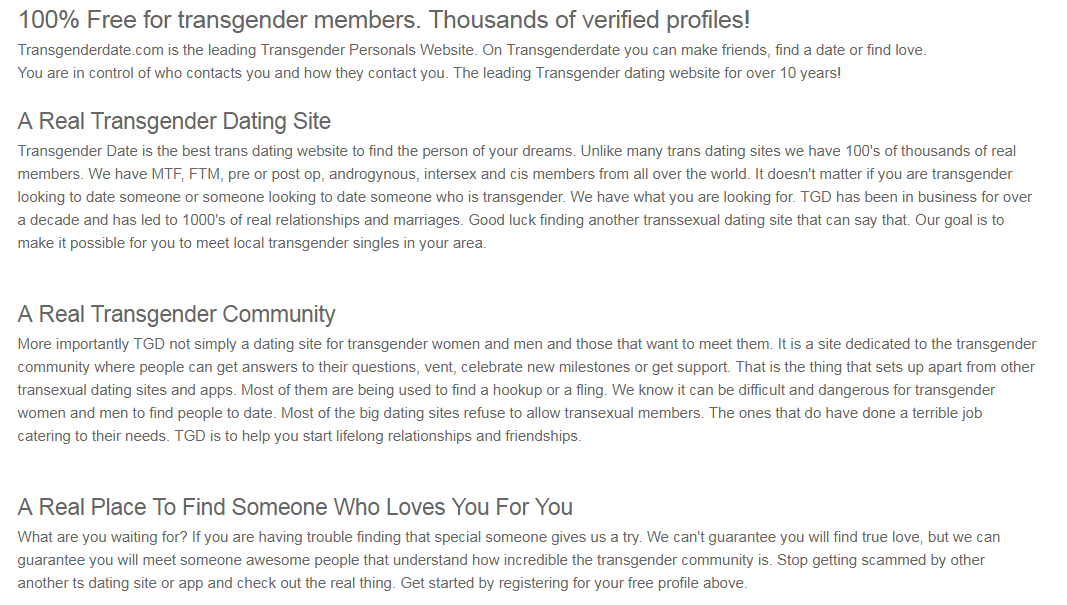 Despite some minor flaws, we can rate TransgenderDate.com a solid 4.5/5. They have succeeded in creating a safe platform where trans people (as well as anyone else) are welcome to be appreciated for who they are. It is challenging to create a niche dating platform for a community that's not strictly defined, as is the case with the trans community. It appears as though the solution that TransgenderDate has come up with gave rise to a platform that resembles a social media more than a dating site. From this perspective, the "date" part in their name looks like some sort of self-humbling false advertising. This, however, is not a drawback because the job is well-done and the final product is quite enjoyable. We recommend TransgenderDate not only to trans people looking for friends or soulmates but also to basically anyone even vaguely interested in anything transgender-related. After all, it's 100% free, so you might as well check it out even out of sheer curiosity.
---
More online Dating Services
---