Pros
The fees are reasonable

Free browse through the user database

The majority of profiles seems 100% authentic

There is an instant messenger

There is a mobile app
Cons
It's impossible to communicate with other users for free

The database with Malaysian ladies is small, as this specific niche is quite narrow
Verdict
Malaysian Cupid is a pretty impressive dating site — like most Cupid Media niche platforms. Malaysian Cupid may not be too big or too creative on features, but it does its job of connecting Western gentlemen with Malaysian ladies
---
Malaysian Cupid Review: Quick Overview of the Platform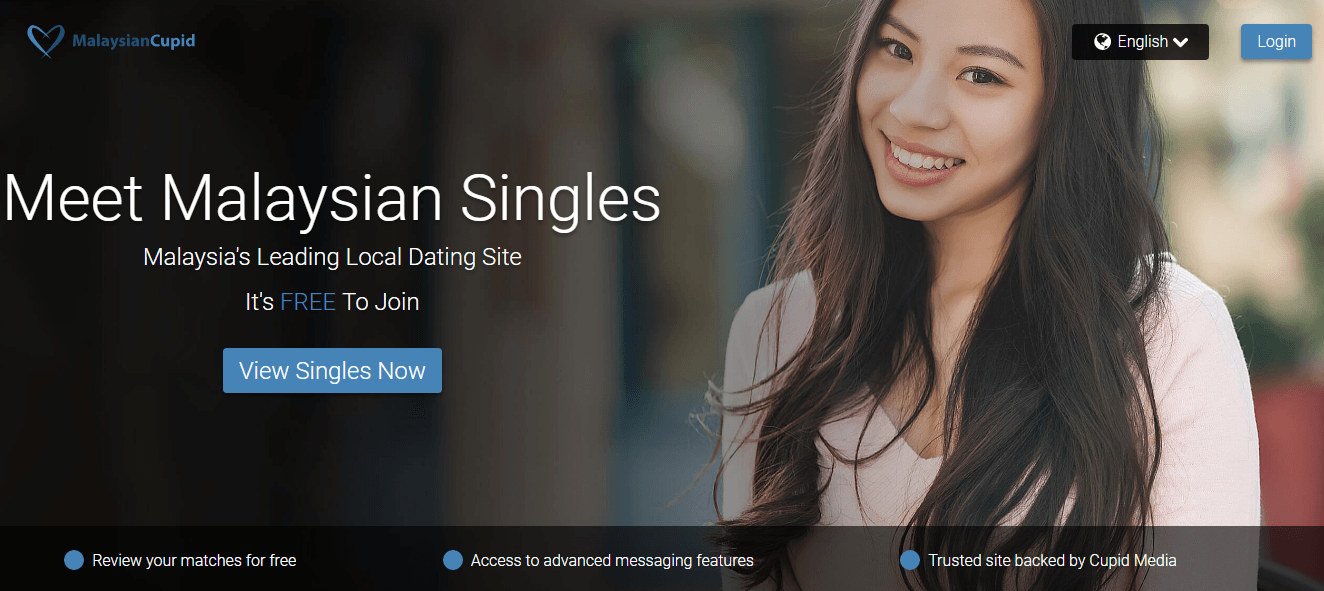 Malaysian Cupid is a part of a Cupid Media network determined to unite hearts all across the globe. So, if you are one of those men who cannot resist the temptation of meeting a beautiful Malaysian lady, this Cupid Media's website is the ultimate choice for you. First of all, Malaysian Cupid is one of the largest dating networks in Asia, and definitely — the largest one in Malaysia. 
Besides, if you are planning a trip to this exotic country and hope to land dates in the middle of the street, get ready for an unpleasant surprise — most Malaysian girls are Muslims, which means they will not talk to strangers hitting on them out of nowhere.  If however, you make all the necessary preparations in advance, you have a great shot at making your vacation more enjoyable and actually going on a couple of dates once you're there.
Still, no matter if you are looking for commitment or a bit of fun, let's first find out how legitimate Malaysian Cupid is, what features it offers, and how much it costs to use the platform. 
Malaysian Cupid Members 
As of today, Malaysian Cupid has 600,000 registered members. Most of the ladies come from Malaysia, while men mostly come from Western Europe and the United States. Media Cupid's reputation in the dating niche accounts for the fact that most profiles are real and verified. Malaysian Cupid had been launched 16 years ago, and ever since, it has been striving to deliver excellent service to all of its members. Media Cupid does all in its power to eliminate fake or automatically generated accounts, so if you are looking for a chat with a pretty Malaysian lady, this is the best platform to get started. 
As for the ladies, you will find women from all walks of life on Malaysian Cupid — from university students to small business owners. Note, though, that since Islam is the major religion in Malaysia, it's no surprise that online dating is being frowned upon. At the same time, you cannot stop the world from changing, so more and more women from Malaysia join the website in hopes of finding a long-term partner or simply a good friend from a different culture. 
How to sign up Malaysian Cupid 

Registration with Malaysian Cupid takes no more than a couple of minutes — basically, you need to provide a valid email address, click on the activation link and fill in a couple of fields with the basic info about yourself. The latter includes your date of birth, location and your goals on the website. Once you upload a picture, you can add more details about yourself and what you're looking for in a potential partner. You are encouraged to fill in as many details as you can since it will give your profile more credibility. 
Search and matching preferences 
Similarly to most other products from Cupid Media, Malaysian Cupid offers quite extensive search filters anyone can make use of. You can search for other people by age, appearance, precise location, interests, and so on. Searching for other members is free, and users can modify their search filters anytime they want. Or, if you know exactly what partner you're looking for, fill in your ideal match description just once and simply refresh your search filters now and then — without filling in all the graphs manually. 
Note, however, that playing with your search filters from time to time is a great idea when looking for an online date. First — let's be completely honest — not all of us have a detailed picture of our perfect partners in mind. Second, it's hard to imagine every little detail about your potential match, so if you are too picky with your search settings, you risk missing out on a great match. 
Next, a lot of site members make use of Cupid tags — special keywords they add into their search boxes. Cupid tags are available all across Cupid Media's products, but, for some reason, they are a big thing on Malaysian Cupid. Add any keywords that describe you best to the profile and other users will be able to find you by these labels. 
Finally, if you cannot think about precise search parameters or figure out the best tags for your profile, you can always search for other members by pre-set filters (currently online, in my area, newly joined, etc.). 
Profile Authenticity on Malaysian Cupid 
As already mentioned, Media Cupid invests a lot of effort into eliminating any suspicious profiles. While technically it's not obligatory to verify your identity on Malaysian Cupid, some users do. The process is quite simple — you mail a screenshot of your ID to the support team, and within 24 hours your profile is awarded a green verified badge. However, we've noted that not too many women on the website bother to have their identities verified. 
At the same time, a lot of profiles on Malaysian Cupid are quite detailed and feature a lot of realistic pictures. So, we must say that the majority of profiles seem 100% authentic, even though one can still come across an obvious fake now and then: no photos, no profile descriptions (or a couple of generic lines), etc. 
On the bright side, Malaysian women looking for men seem to be pretty active on this platform — out of ten test messages we've sent out, only two were left without reply. However, most women on Malaysian Cupid seem to have free memberships, so their communications options are limited — but we'll discuss the costs of using the service and the limitations of free accounts in the paragraphs below. 
Paid VS Free Accounts
Now, we get to the truly important part — do you need to pay for Malaysian Cupid's services? The answer is yes. It is, of course, possible to create an account for free, but just like with many other Media Cupid's niche websites, you won't do much with your free account on Malaysian Cupid. 
Here's what you can get for free:

Create an account 
Browse through the user database 
Send winks to other members
Get one free message in every 15 minutes 
Note, however, that even though it is technically possible to communicate with the help of a free account on Malaysian Cupid, making the girl wait for 15 minutes is a no-no in Malaysian culture. You will come off cheap, and even though you cannot call these girls gold-diggers, they will still be put off by your money-saving skills. Besides, one message per every 15 minutes goes for messaging free users. You cannot use these free messages to communicate with premium girls. 
On the other hand, a premium membership offers a couple of extra services (on top of the ones we've listed above). 
Currently, Malaysian Cupid offers two types of paid memberships — Gold and Platinum. Let's see the difference between the two.
Gold membership features: 
Sending unlimited messages to other users
Making use of advanced search functions
Sending virtual gifts (for extra credits)
Start live chats 
Hide your online status 
Gold membership fees:
1 month: $24.98
3 months: $16.66, $49.98 total

12 months: $8.33, $99.96 total
If this is not enough for you, users can also opt-in for a Platinum membership that offers even more perks, such as:

Higher ranking in search results 
Doubling your profile space to include more info
VIP badge for your profile 
Message translation
Platinum membership fees:
1 month: $29.98
3 months: $20, $60 total

12 months: $10, $120 total
On the whole, the only feature truly worth paying on a platinum membership plan is the transaction services. Even though most Malaysian girls have some basic understating of English, their skills are usually not enough for expressing their ideas clearly. Otherwise, most users should be perfectly ok with a Gold membership plan. Besides, Malaysian Cupid's fees are a bit higher than average in the dating market, so there is really no need to pay even more for the features you do not really need. 
Besides, Malaysian Cupid offers a couple of extra perks available for virtual credits. Users can spend these virtual coins on a real-time flower and candy delivery — the actual costs will be calculated based on the precise location, and the delivery will be taken care of by a local company. Media Cupid's credits can be transferred to any of the other Cupid niche websites you're using. However, actual gift delivery is something you would only consider when planning to get seriously involved — so not all paying members should even consider this feature. 
Malaysian Cupid accepts all major credit/debit cards, Paysafe, and PayPal. So, you'll have quite a lot of payment options to choose from. Note, however, that if you want to cancel your subscription (or transfer to a longer, cheaper plan), you'll have to do so at least 24 hours before your current membership expires. Otherwise, it is set to auto-renew (you can switch this feature off in your account settings). 
Takeaway and final verdict on Malaysian Cupid
All in all, Malaysian Cupid may be worth a shot if you are going on a Malaysian vacation alone and hope to date a couple of girls once you're there. Given the cultural specifics of the country, it is practically impossible to get local dates any other way. 
This site is also a nice option if you are looking for commitment and you have your mind set on Malaysian ladies exclusively. After all, Malaysian Cupid is the largest dating network in the country, so your odds of finding a potential marriage partner here are solid. On the other hand, when looking for an Asian wife, we'd still recommend to cast a wider net instead of sticking to just one country. But then again — the call here is yours.
As for the website itself, it's pretty impressive — like most Cupid Media niche platforms. Malaysian Cupid may not be too big or too creative on features, but it does its job of connecting Western gentlemen with Malaysian ladies. 
The biggest disadvantage of this website is that it does not offer any trial period and that it's practically impossible to communicate with other users for free. And, even though the fees are reasonable, it's still recommended to think twice before buying a subscription. No doubt, Cupid Media's reputation in the dating niche makes this platform worth trying. On the other hand, your question should be — should you choose such a specific niche platform with so few users or should you cast a wider net when looking for an Asian bride?
---
More online Dating Services
---