Pros
Signing up is entirely free, and you can send flirts, like photos, browse photo albums, and view profiles

Users can choose from three subscription plans

Buying a 6-month subscription plan, you pay only $6.49 a month, so pricing policy is quite low here

The website design is intuitive, and its interface is user-friendly

Live chat and many other means of communication are available there

You will receive matches every day
Cons
Communication feature is available only for paying members

There is no mobile app, but the site is mobile-friendly
Verdict
If you want to find serious, lifelong relationships online without worrying about your safety, then MarriageMindedPeopleMeet is your solution. Users are welcome to try it out for free first and see if they like it before paying for it. As it stands, you most likely will love the site.
---
MarriageMindedPeopleMeet: Finding Your Soulmate Online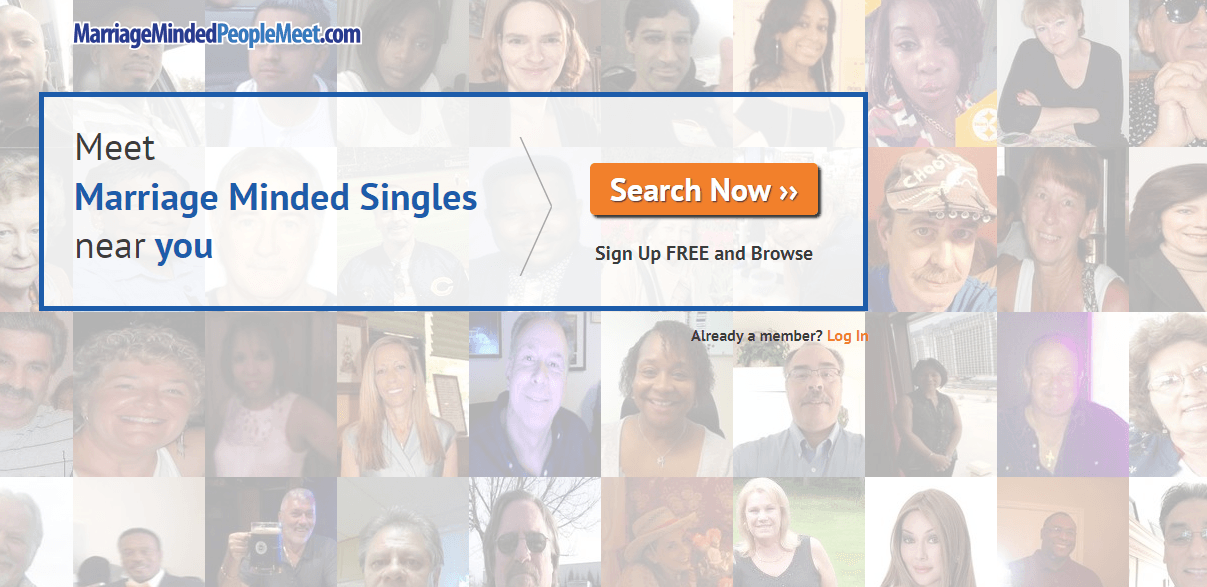 MarriageMindedPeopleMeet is a dating site where singles look for lifetime partners. Being a part of the People Media network, the site's goal is to create meaningful connections while maintaining its users' privacy. MarriageMindedPeopleMeet focuses on bringing, as its name suggests, like-minded individuals who are looking for a lifelong commitment online. This can either be men who are looking for a wife or vice versa. These are the target members of this dating site. Before you try this site, it is best to stop and evaluate what it has to offer compared to other websites. 
Member Composition
MarriageMindedPeopleMeet has 15,000 registered users in the United States alone, and there are roughly 10,000 users actively weekly. Notably, the website has quite a balanced male/female ratio, with 60% of the users being female. A majority of its users are between their late 20s and early 40s. You might not have a lot of luck if you are 18 and looking for casual dating because a majority of its users here are singles who are ready to settle down. 
Creating an Account
Some websites might force their personality test upon users when they first sign up, but not this one. You can skip this altogether, but it will be still necessary to write a short introductory paragraph about yourself and provide basic personal information. It is recommended that you pass the personality test as soon as possible, so the matchmaking results were a lot more accurate. The test will ask certain key information such as your interests, hobbies, romantic preferences. To express yourself further, there is an option to add two additional essays describing what makes you a unique partner. These paragraph boxes come separately from the main introductory paragraph. Overall, creating an account takes less than 5 minutes, and there are clear instructions so even older or less tech-savvy people can sign up very easily.
Upon registration, you will get a personal profile which you can fill out. It is best to do so because then there will be a higher chance of getting a response from other users with a complete profile. An incomplete profile might be seen as fake, and the users here highly value their privacy and safety. If your profile is incomplete or inconsistent, do not expect to get many responses. 
If you are a male user, you may receive somewhat more message requests a day because there are more women active on this site. Nonetheless, most members are quick to respond, so there will be no need to wait for hours just to get a reply. 
Signing up is free, and one can start contacting people immediately. Plus, you can also see who is online right now so your messages will not fall on deaf ears. 
Messaging Others
There are plenty of means of communication available on this site. Unfortunately, though signing up is free, communicating is not. While you can use "flirts" and attract attention this way, there will be a higher chance of getting a response by contacting users via messages instead. The messaging feature is only available to premium members. This includes sending and receiving messages. There is one exception to this feature. You can answer messages coming from a premium user.
If you want to experience what this website has to offer in its fullest, it will be necessary to upgrade your account. If not, the site will feel somewhat restricting. Communication features include live chat, personal messaging, and "flirt." Its live chat shows you who is currently online so you can contact them personally. "Flirts" are available for free, so free users have one form of communication at their disposal, though it is still very restricting. "Flirt" is intended only to let the other user know that you are interested in them. There is also the search feature which uses a myriad of filters for narrowing down your preferences. However, there will only be no more than five matches a day. If you feel lucky today, you can also play "Who Do You Like" game where the player chooses between two photos. 
Because the website cares about your privacy, you can report a member or block them. To block someone, just click the "Block" icon on the member's profile. If they have been harassing you or you suspect them of being a fake profile or that they are trying to scam you, you can report them. They will not know if they get reported: all reported concerns are entirely anonymous. Your report will bypass the customer care service and straight to the right team so they can review and take the appropriate action against that account. 
Profile Quality

Upon signing up, even without paying, it is possible to see all pictures of other members on MarriageMindedPeopleMeet. You can even view the profile photos and other uploaded photos of your match. You do not need to start messaging people immediately, too. If you want to talk to someone later, you can always hit "Save" at the upper right corner of the profile. You can find their profiles under the "Faves" list. There are three major tabs in the profile: "About," "Photos," and "Our History." 
The "About" tab is a wall of texts of the introductory paragraph, so get ready to read a lot because most users put a lot of effort into perfecting their self-description essay. It is here where they write about what they expect to find at this site, which is located under the "Relationship Expectations" field. Notably, the "About" page can always be changed later. 
The "Photos" contain all uploaded media of the user that could give you more details about that person. The "Our History" tab records the activities you had with that user, one of which is your message history. 
Mobile App
MarriageMindedPeopleMeet does not have a mobile application yet, but it has a mobile-friendly site. You can access it by going to your browser, login or join the site, and tap on "Mobile Site" at the bottom of the page. 
Design and Usability
The website design is intuitive, and its interface is user-friendly, even for older and less tech-savvy users. It comes in an eye-pleasing blue color. The buttons are self-explanatory. The pages are also easy to navigate and the font used is very clear. Even when you are not familiar with dating sites, its functionalities are easy enough to understand that you might not even need assistance regarding usability, which is a definite plus. Still, the website did not optimize its space properly, and there is a lot of dead space on the web page that could be used for texts or contact features. Overall, the website functions as intended without any problems.  
Costs and Prices
Signing up is entirely free, and you can send flirts, like photos, browse photo albums, and view profiles. 
However, you need to subscribe if you want to access additional features. With a premium subscription, you can read and reply to messages, see members who have sent you flirts, see members who have liked your photo, and chat with online members. 
Users can choose from three subscription plans. If you want to try the site out before actually investing in it, go for the 1-month subscription plan at $13.99 a month. The 3-month subscription plan goes for $26.97, which equals $8.99 a month. If you like the website and know that you will spend much time there, then go for the 6-month subscription plan. This is the best value plan as it is $39.94 in total at $6.49 a month, saving you up to 66% compared to the 1-month plan. 
Payment Options
When it comes to paying, you can only do so via credit cards. While all three package plans include standard upgrade benefits such as live chat and email, it is worth mentioning that all three plans get billed in one payment (with tax) and not in monthly installments. Its monthly rate is there for comparison only. 
If you want to pay every month, you should select a one-month plan. Still, that would be costly compared to other options. You can always upgrade to other plans, and they are charged a one-time, non-refundable processing fee in addition to the cost of the membership plan and other taxes. 
All payments will not be instant. It will take about 72 hours after receiving your payment before it gets processed. If you have any problems, you can call their customer care at 866-320-0106 between 7 AM and 7 PM Monday through Friday. Also, if you wish to see the refund policy, you can read it at Section 4b of the "Terms of Use" located at the bottom of the site's home page. 
Membership
When you sign up on MarriageMindedPeopleMeet, you have the option to hide your profile by going into "Settings," "My Account", and "Hide My Profile" so you can browse anonymously.
Users can always delete their account and remove their profile from the website altogether. Simply go to "My Account," "More Account Status Changes," and "Remove my Profile." It will still be possible to sign in after you have canceled your account. If you remove your account with a subscription plan, when you sign into your account, the system will ask if it should reactivate your plan.
Conclusion
To sum it all up, MarriageMindedPeopleMeet is an excellent dating website for those who look for a lasting commitment. While it is true that most communication functions are hidden behind a paywall, many users are still active there. This shows that most users are paying subscribers who are serious about finding the right marriage candidate, which is exactly what you would look for at a site like this one. MarriageMindedPeopleMeet is intended to connect singles who want to marry, which is why both the site and its users are very strict when it comes to privacy. 
In addition to its privacy policy, its members will see incomplete or inconsistent profiles users as fakes, and will most likely refuse to interact, both of which will reduce the number of successful scam attempts. Plus, the paywall also serves as a deterrent against scammers or fake users who joined with malicious intents in mind. As such, there's no need to worry about scamming attempts here. While it may be disappointing to have to pay just to communicate with other users, remember that the paywall is one way of protecting the platform's members, especially when MarriageMindedPeopleMeet is for marriage and not just casual dating. 
Therefore, if you want to find serious, lifelong relationships online without worrying about your safety, then MarriageMindedPeopleMeet is your solution. Users are welcome to try it out for free first and see if they like it before paying for it. As it stands, you most likely will love the site.
---
More online Dating Services
---